Mother's High Tea is an elegant event, produced by 4 & 20 Blackbirds, honoring and celebrating women and mothers in the cannabis industry. Since 2011, Mother's High Tea features ladylike attire, teacups, inspiring speaker program and activity tables for children and guests.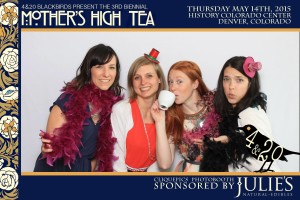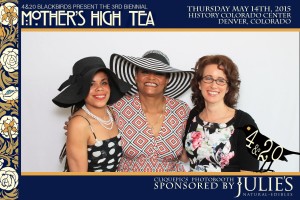 In 2015, with the generous support from businesses,  and production efforts by a committee,  Mother's High Tea was held the  beautiful venue, History Colorado Center for the expanding community of women and supportive men. Special thanks to Mary's Medicinal's, Julie's Natural Edibles, MiNDFUL, Steep Hill, The Farm and Ideal 420 Soil for their sponsorship.
The keynote speech was made by Republican Senator Beth Martinez Humenik. Seattle based, AC Braddock, CEO of Eden Labs and Kristi Kelly owner and operator of metro Denver dispensaries, Good Meds,  shared their experiences in personal accounts of growth and and challenge. Diane Fornbacher, Editor and Publisher of Ladybud Magazine captured a community ethos by writing and  reciting poetry. Mistresses of Ceremony was Christie Lunsford and Susan Squibb.
In 2012, Mother's High Tea was the launch of the Women's CannaBusiness Network (WCBN), a woman centered business development group of  National Cannabis Industry Association. In 2014, WCBN developed into Women Grow.  The key note speaker was JoAnna LaForce, Clinical Director of The Farmacy in Santa Barbara, CA. Amy Poinsett, CEO of MJ Freeway, and Betty Aldworth, Advocacy Director of Campaign to Regulate Marijuana Like Alcohol  shared experiences of achieving success over adversity. Wanda  James, Managing Partner of Simply Pure and President of James Foxx Communications, a political strategy and communications company and political hemp advocate, Lynda Parker encouraged communicating to legislators and the importance of education to achieve political successes. Mistresses of Ceremony was Christie Lunsford and Susan Squibb.
This community event began in 2011 as a community event around Mother's Day for the women, mothers, and supportive men in the cannabis business.  The keynote speaker was Ms. Jessica Peck, attorney at Hoban & Feola and media thoughtleader. Personal speeches were delivered by Jill Lamoureux, first Boulder County marijuana business licensee and dispensary owner, Toni Fox, owner of 3D  Cannabis Center, Deanna Gabriel, herbalist and owner of Cannabis Magic, Georgia Edson, dispensary partner and Jessica LeRoux, owner of Twirling Hippy Confections. Mistresses of Ceremony were Catjia Redfern and Susan Squibb.
Mother's High Tea is a meaningful, upscale tea for the women, children and supportive men that comprise the growing cannabis business and advocacy community. Join us in the fancy fun!
Get our event updates at the Mother's High Tea Facebook page.
Scroll below to see moments of Mother's High Tea captured by photographer, Kim Sidwell. Click to view the photo albums http://www.cannabiscamera.com/clients/mothershightea,  http://www.kimsidwell.com/mothersday2012 and  http://www.kimsidwell.com/mothersday2011